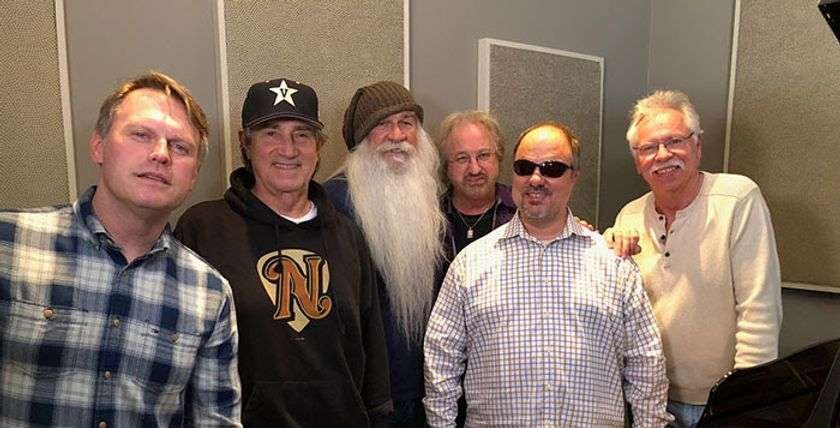 NASHVILLE, TN—New Haven Records recently debuted the official artist video of Gordon Mote's new song, "Set Your House in Order," an upbeat Southern Gospel hand-clapper featuring the legendary Oak Ridge Boys. The high-energy video shows Duane Allen, Joe Bonsall, William Lee Golden, and Richard Sterban joining Gordon Mote in a Nashville recording studio to rehearse and record the song.
The Oak Ridge Boys are two-time recipients of Academy of Country Music Awards. Additionally, the quartet has won multiple Country Music Association and Grammy Awards as well as been inducted into both the Gospel Music and Country Music Halls of Fame.
Mote, a three-time recipient of Academy of Country Music Awards reflects, "I grew up loving the Oaks and have had the amazing privilege to play for them in concert and in the studio. To have them join me on my record and video is nothing less than a lifelong dream come true."
Duane, the lead singer of the quartet says, "I have often wondered what Gordon Mote 'can see' in his mind. I think he has the entire picture laid out, and he just brings the rest of us in to fill in the colors. I love working with Gordon. He has an endless supply of creative ideas, and, he never forgets keys or arrangements. Did I tell you that he has the perfect pitch??"
Co-produced by the celebrated talents of Wayne Haun and Phil Johnson, the LOVE LOVE LOVE album spans the stylistic gamut from traditional Southern Gospel to Country to accessible pop. Nonetheless, the album is unified by Gordon's warm voice, stellar lyrics, and signature piano prowess. As the project came together, Mote realized that the common thread of God's love ran through the songs on the album and decided that LOVE LOVE LOVE was the perfect title.
Mote continues, "Even 'Set Your House In Order' is about God's love. It's a fun song with a serious message: the Lord is coming back to judge the world. But in his loving kindness, he's delaying his return until we can hear the call to repent, trust in Christ for our salvation, and begin to live as ambassadors of his love."
The release of LOVE LOVE LOVE has been met with great enthusiasm. The title cut single is currently racing up the Southern Gospel Radio charts. Mote has recently been interviewed at Nashville's legendary WSM Radio and Singing News Radio as well as by Kyle Cantrell at Sirius XM. Jan Puryear, Radio Promoter, reflects on the current single, "Gordon Mote's song, 'Love, Love, Love,' tells the simple story of the power of love. It's a sermon about a sermon, a message that love is more important than words and love makes all the difference in the world. It's a message that we need now more than ever, and that's the Gospel truth."Ken Harding, president of New Haven Records, concludes, "My very first job in the music business was working at the Duane Allen's recording studio. Like Gordon, we're so blessed to be back in the studio with folks we've loved and respected our whole lives."