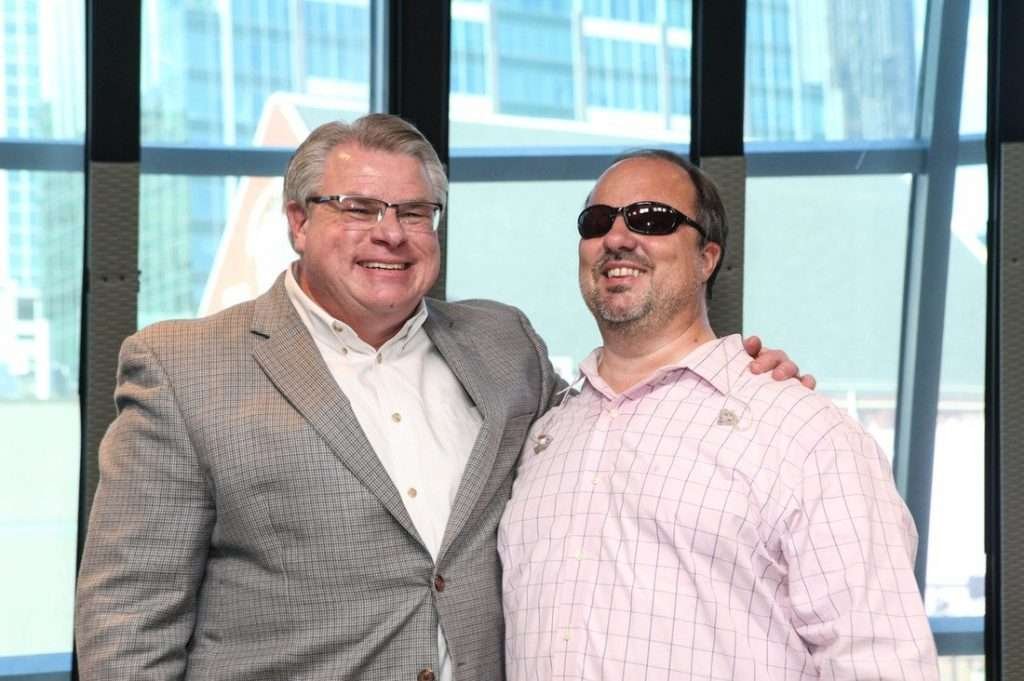 Kyle Cantrell (SiriusXM) and Gordon Mote share a moment during the SiriusXM Christmas Special in downtown Nashville featuring Gordon Mote's holiday album The Star Still Shines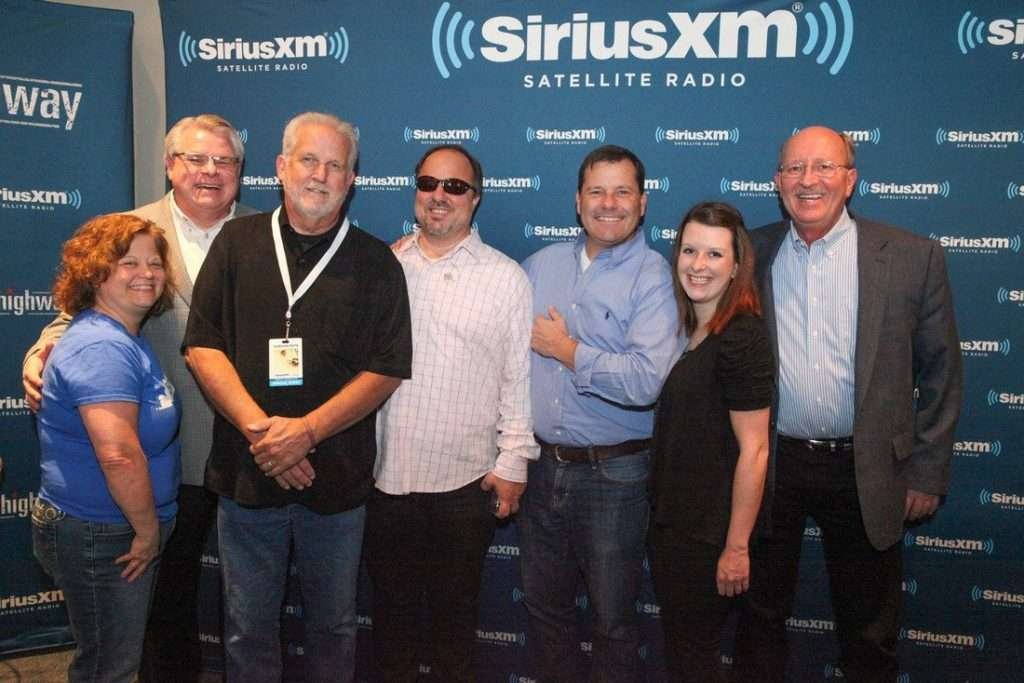 Pictured Left To Right: Carol Roundtree (Provident Music Group), Kyle Cantrell (SiriusXM), Phil Johnson (Co-Producer), Gordon Mote, Jimmy Wheeler (Provident Music Group), Keri Sawyer (New Haven Records), Ken Harding (New Haven Records)
GORDON MOTE CELEBRATES THE HOLIDAYS WITH SIRIUSXM CHRISTMAS SPECIAL
GRAMMY®-nominated musician Gordon Mote will ring in the holiday season this month with an hour-long Christmas special on SiriusXM's enLighten Channel (Channel 65). The seasonal special will air at 6:00 PM 12/23, 3:00 PM 12/24, Noon 12/25, and 6:00 PM 12/25 (Eastern Time).
Mote taped the special before an invitation-only audience at SiriusXM's studio located in the tower of Nashville's Bridgestone Arena. Performing selections from his Christmas album, The Star Still Shines (New Haven Records), Mote entertained those in attendance with a mix of holiday favorites, as well as original songs.
"Gordon Mote's Christmas concert recording at SiriusXM was the perfect kick-off to the holiday season," says radio promoter Jan Binkley Puryear. "In the heart of downtown Nashville, Gordon sang Christmas favorites and new classics, like 'The Star Still Shines'—the title cut of his Christmas project—to the delight of the studio crowd. SiriusXM's Kyle Cantrell emceed the event hosted by SiriusXM enLighten and New Haven Records. It was a great time of celebration, fun, fellowship and Christmas cheer with the incredible Gordon Mote." Billed as "North America's Southern Gospel Station," SiriusXM's enLighten channel is available commercial-free via satellite to more than 29 million subscribers. In addition to his forthcoming holiday special, Mote recorded an exclusive performance for SiriusXM listeners earlier this year in support of his latest studio project, Gordon Mote Sings Hymns and Songs of Inspiration. "It is always a pleasure to work with Kyle Cantrell, all the great people at SiriusXM and enLighten, and the incredible studio audience," Mote comments. "What a wonderful way for Kimberly and I to wish the SiriusXM subscribers all around North America a very blessed, joyful and Merry Christmas." Mote received his first career GRAMMY® nomination for Best Roots Gospel Album earlier this month. He will perform holiday shows in select cities throughout the remainder of the year. For a full list of tour dates and more information, visit www.gordonmote.com.
ABOUT GORDON MOTEBlind since birth, Gordon Mote began playing piano at the age of three. Ever since, he's been using his God-given musical talents to write and record songs that reflect his faith. After graduating from Nashville's Belmont University with honors, Mote was asked to join Lee Greenwood's band. Since then, Mote has become an in-demand concert and studio musician playing, touring and recording with some of Country and Gospel music's biggest artists, including Porter Wagoner, the Gaither Vocal Band, Brad Paisley, Carrie Underwood, Rascal Flatts, Blake Shelton, Trisha Yearwood and Alan Jackson, among others. Moreover, Mote has also been a long-running guest on numerous Gaither Homecoming tours. Throughout his career, Mote has garnered two Academy of Country Music Awards, two Music Row Magazine Instrumentalist of the Year Awards (2009, 2011), numerous Dove Award nominations and a GRAMMY® nomination.
ABOUT NEW HAVEN RECORDSNew Haven Records is a Nashville-based music corporation that includes label, publishing and film companies focusing on the uniquely American genres of Black Gospel, Southern Gospel, and Country & Bluegrass Gospel. New Haven's products are serviced to Christian retail through Provident Music Distribution and to the mainstream marketplace through SONY Distribution. For additional information, go to www.newhavenrecords.com.